E-commerce is hotter than ever.  If you're planning on jumping into the game this year, he's some advice to keep in mind…
1. What kinds of web design trends are dominating the ecommerce market?
I think one of the biggest trends to heed is making sure websites are responsive, which means that they have the same download speed, image quality and video clarity when visitors switch from a desktop to a mobile device. More than 50 percent of people who go online do so with their mobile devices, so businesses that want to attract more prospects must design their websites to be responsive.
Another ecommerce website trend to pay attention to are video and GIF backgrounds. GIF backgrounds are designed so that the image displayed moves when a viewer is on the businesses' homepage. Using video as a high-quality background can help set the emotional tone for the user experience.
2. What does a small business owner need to know about starting a website for an ecommerce business?
Your website is the biggest factor in turning visitors into customers, so design is important, but so is content. Your landing page must be easy to navigate, and it must have bold, clear calls-to-action (CTAs) that compel a visitor to opt-in take a step toward becoming a customer. Whether that means you make a free offer, offer a discount, or package services together, your CTAs are a big part of a successful website.
When we mention 'content' on a website, it's more than just blog pieces, but it includes videos, webinars, product demos, whatever you can offer visitors that provides valuable information and insight into why your company is different.
3. What are some best/worst practices?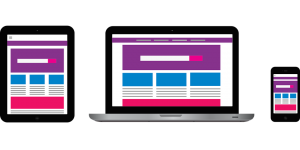 A cluttered website filled with too many colors, images and graphics is a bad practice. This distracts visitors and is a big reason they abandon a website. A website that is slow to respond due to slow download speed times is another bad practice. Best practices include CTA buttons that are set apart in distinct colors so that they can't be missed, CTAs that use action verbs to compel visitors to take action, bold headlines that explain exactly what a visitor will find on that page, and fixed navigation bars that follow a visitor as he or she scrolls down a page.