What happens when you combine technology with marketing innovation, and then multiply it by mobile reach?
Answer:  Your new best friend.
In a world where every business competes for visibility and supremacy in the global marketplace, having a mediocre marketing strategy is nothing short of suicide. The last thing that you should ever want – other than going bankrupt – is to be identified as "just another face in the crowd."  What you need to do is make a big splash!  Fighting for survival in a sea of competition while driving more sales is the name of the game – it's do or die!
Is your business creating a mere ripple on the surface?  If so, here's a tip: pack your bags, because we are getting ready to go on a marketing adventure, 21st century style.  Here's some food for thought, as we begin our journey:
91% of Americans have mobile phones!
Currently, there are over 20 million iPhone owners alone.  That's not even counting Android!
Around 14 billion apps have been downloaded to date… and this number is skyrocketing daily, with no end in sight.
Users spend more time with an individual app than a website – and they return more often once the app is installed.
In an increasingly competitive marketplace, the battle for grabbing your prospects attention has become tougher and bloodier. You need an armor to compete and succeed. And as a result, there are three things that your business simply cannot live without: VISIBILITY. MOBILITY. INTERACTIVITY.
So how do you marry all three components into one superb marketing battle plan? Mobile Apps!
Years ago, not having a website meant your business was living in medieval times. Today, if you didn't have a Mobile App, you're not keeping pace. It's time to face the facts: there have been few things more successful in modern society than what's happened with Apple and the iTunes store, where thousands of apps are downloaded daily on iPhones and iPads.  What's more is that Androids marketplace is quickly catching up.
So you might be asking yourself, that's all well and good, but I don't see how this can possibly relate to my business…
And THAT is where the true beauty of Mobile Apps really starts to take shape.  You see, most people only look at an app on its surface feature: a game, a calculator, a radio, fitness tips, recipes, the list goes on and on.  But the fact of the matter is that apps can be a terrific branding tool and advertising medium.  They can help you:
increase profitability
 strengthen visibility
promote customer loyalty
develop a strong presence
reinforce brand credibility
generate repeat business
Apps give you visibility that stretches well beyond the Internet. Your customers will have all the information they ever need right in the palm of their hands, literally, at all times.  And let's face it; we live in an increasingly mobile society.  As such, your marketing efforts MUST include being where your prospects and customers are.  Do you really want to be running after people when you can be running WITH them? With a mobile app, you practically put your brand right in your customer's hand – literally!  Miss this and you'll miss the boat entirely.
Regardless of what your business is – Realtor, mortgage broker, car dealership, hair salon, massage therapist, chiropractor, dentist, dog walker or any host of others – you NEED an app for it.  A few short years ago, industry giants like Starbucks, Amazon, Target, and eBay began marketing campaigns via mobile apps.  Smaller business immediately followed suit.  Why? Because they didn't underestimate the power of utility. Neither should you.  Apps are the easiest and least expensive way to deliver instant service to your customers.
What's more, not only are apps very convenient to use, they deliver true value and create awareness for your brand anytime, anywhere. They are must-haves for any company with customers who are on-the-go.
Still not convinced an app is right for you.  Check out a few features that mobile apps offer: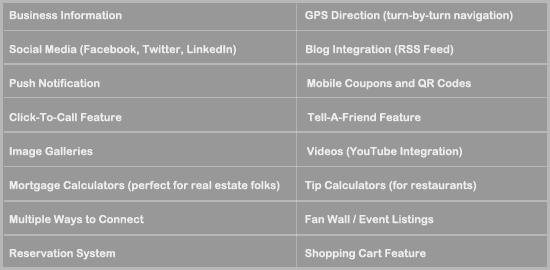 And this is just the tip of the iceburg…
So… instead of asking yourself if you REALLY need an app, perhaps you should be asking yourself if you can REALLY afford to be without one.
If the answer is no, CONTACT US today for your free assessment and preliminary analysis.