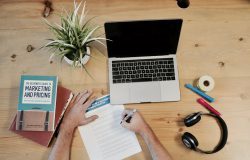 If the pandemic has taught businesses anything after the pandemic, it's that the online world is where it's all happening. Popping into town to speak to a consultant about anything is completely off the table when you can head online and look for one perhaps even easier than getting up would afford you. But, the lack of mobility involved in purchasing services nowadays is not exclusively to do with the pandemic. Yes, the fact of having to find, put on, and keep on a mask is a factor, however the online world has taken the world by storm for many years before that. It is only with the introduction of physically not being able to do our usual routines that has caused more people to look online.
So, the question is, how on earth do I get my business back on track, or, indeed, on any sort of track, without having the physicality of handouts, leaflets, and fliers as the sole marketing strategy for your business? Answer: follow the trend and move online.
Revamp Your Website
Because we are no longer sitting in offices with window displays to draw people in, on this occasion you and your business need to follow the trend and build a website so strong that your clients are practically drawn in from the moment they see your website name and logo. If you already have a website, great! But, don't assume the 'it will do' attitude, because the website really is the be all and end all for your business.
On average, prospective clients spend around 45 seconds on your website. Wow. Tough crowd. But, that is what the digital age has come to. So, you must conform. You want to make the site as user-friendly as possible, and scroll worthy. To do this, you need pictures, varied fonts, colours that suit your brand. Really try to make this site a representation of what you offer, and what you are all about. Your tone of voice should be seen through this website, and not just through the words.
Keeping Your Website Up-to-Date
It's no good if your website is old-fashioned and in need of a serious makeover, let alone not fully equipped for the new digital age. We suggest ensuring your website is fully loaded up with all of the things a mobile would need to use it. This includes making your site mobile-friendly, so a prospective client is not using those 45 seconds just scrolling endlessly to the left to see all of the writing on the screen. This really would be a bad use of time. Now, especially during the pandemic, mobile usage has increased dramatically. Henceforth, you need to make sure your website looks good from a mobile's perspective. Because, more times than not, people are looking at it from a mobile and not a laptop or desktop. If you are struggling with this, or, indeed, marketing in general, check out Joey Armstrong for some extra tips.
Conclusion
So, as we are entering deeper and deeper into the digital age, our businesses and ways of life have too. Whether we like it or not, we must change our patterns in order to gain more clients. So, in terms of marketing, this means seeing your business from a fresh and new perspective.