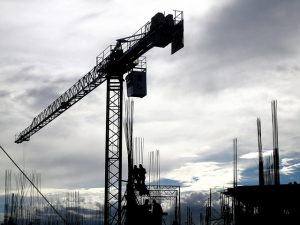 First, you must offer quality and useful content by creating a blog. It's not enough to just have a website that offers your services, you must have a blog that has actionable content targeted at consumers who know very little or nothing about the construction business. Why? Because when you educate consumers at a basic level and make them feel as if they can understand what you company offers, they are much more likely to engage with your services.
Second, you have to get on social media to connect with prospective consumers. You can't brand your business without a Facebook page, and without having a strong presence on Twitter and to a lesser extent Instagram. Consumers crave to engage with companies that market on a personal level, whether that means social media campaigns built around fun and entertaining contests, or "Meet Your Contractor" posts that provide videos and interviews about common construction topics that consumers would fine useful.
Third, you have to get out into your community and let people know whom you are and why they should trust you. How? Host community meetings where people can come and ask questions about home building projects and get free estimates. You have to be willing to interact with your local consumers AND offer them some freebies to engage their interest.
Fourth, you have to upgrade your technology. How? Do you have the capability of showing customers what their projects will look like in a full 3-D digital mockup? It's little details like that which can distinguish your business from that of a competitor's and give you that advantage that could net you a huge contract.
And the last idea for your marketing strategy is to solicit reviews, because positive word-of-mouth is one of the major drivers of business for construction companies. And that's probably truer in this industry, because these projects are so time-consuming and expensive, and happy customers create less doubt in prospective consumers about hiring you to handle their projects. One caveat here: platforms such as Yelp have strict regulations about how you can solicit and post reviews, so make sure you read the fine print before using these popular review platforms And also make sure that you respond to any negative reviews immediately and in a way that resolves the customer's dispute, because that is the best way to show that you're a company that is responsive to a consumer's need and will do whatever it takes to ensure satisfaction.